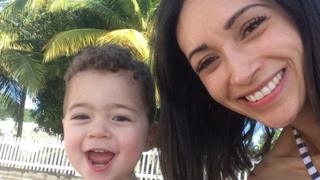 A mother walking with her three-year-old son asleep in a pushchair was stabbed after she refused to hand over her mobile phone.
Christel Stainfield-Bruce, 36, was approached by a teenager in Islington, north London, on Friday afternoon who initially asked her for directions.
He then said "give me your phone" and after she said "no" he stabbed her in the thigh before fleeing empty-handed.
She was told at hospital she was lucky the knife missed a major artery.
The nursery worker said: "It feels so unnecessary.
"There was no gain, he didn't even get my phone or bag or anything, but it must be a symptom of a wider problem.
"What is the state of the country when young children are causing a big wound to people they don't know, with people you've got no history with? What's going through the these people's heads?"
The mother-of-three said she was surprised by how young her attacker – thought to be between 14 and 16 – was.
She said he had stopped her in Caedmon Road at about 16:45 BST on Friday and asked her for directions to the nearby Emirates Stadium, which she gave.
He then demanded her phone and when she refused, he stabbed her in the left thigh and fled in the direction of the Tollington and Holloway Road area.
Ms Stainfield-Bruce's husband Quinn said his wife "didn't scream out because she didn't want to wake our son who was asleep in the pushchair" and tied her jumper around the wound before phoning 999.
Mr Stainfield-Bruce said his wife was "insanely lucky", adding "she could have been paralysed or died".
She was taken to hospital where she was discharged early on Saturday and is now recovering at home.
The Met said no arrests had been made.
Officers said the suspect was 5ft 3in tall black male of large build, wearing dark-coloured clothing, including a jacket and trucker-style cap.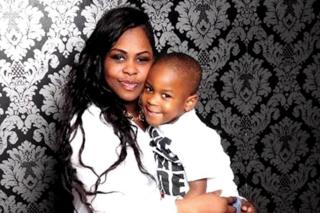 An Army veteran grabbed his mother around the neck and shouted "you're dead" years before killing a Britain's Got Talent finalist, a court heard.
Desmond Sylva, 41, stabbed his partner Simonne Kerr more than 70 times in August 2018, the Old Bailey heard.
In March 2010 he had been charged with grievous bodily harm with intent to his mother, but the case was dropped.
Sylva has admitted manslaughter but denies murder, claiming his depression impaired his mental function.
The court has previously heard Ms Kerr, 31, was attacked at a flat in Clapham, South London, with a kitchen knife after she returned from work at Guy's and St Thomas's Hospital on 15 August.
In a witness statement read to the court, Mr Sylva's mother Patricia King said in 2010 he had been staying with her and had been upset about the prospect of his then wife not returning from Germany with their child.
While she was reading a text message, Mr Sylva grabbed her round the neck saying "help help", the court heard.
Ms King responded: "Sparrow, it's me your mother," and he allegedly replied: "Mother, you're dead."
Jurors were told he put his arm around her neck and put his fingers down her throat to stop her calling for help.
He forced her to the ground and straddled her as he continued to say "mother you're dead", the court heard.
Prosecutor Louise Oakley said Ms King told police she remembered "blood coming from her mouth before she passed out".
Mr Sylva was charged in relation to the incident in March 2010, but Ms King withdrew the allegation, saying she was not willing to give evidence against her son.
Jurors have heard Iraq war veteran Mr Sylva had served in the Royal Regiment of Fusiliers between 2002 and 2012 before he was discharged on medical grounds.
The trial continues.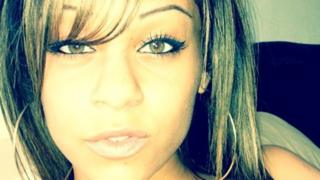 The mother of a woman who fell to her death from a balcony has lost a High Court challenge against a decision not to prosecute her daughter's boyfriend.
Jourdain John-Baptiste was 22 when she fell from her fourth-floor flat in Enfield, north London, in August 2015.
The Crown Prosecution Service (CPS) brought no charges against her boyfriend, which lawyers for her family claimed was "irrational".
But Lord Chief Justice Lord Burnett said the CPS decision was "reasonable".
After the hearing, her mother Tracey John-Baptiste said: "We have lost my beautiful daughter and now we have lost the chance to get justice.
"Even those against prosecuting in the CPS recognise this is a finely-balanced decision.
"Why not put this to the jury who can hear all the witnesses and decide?"
The boyfriend, who cannot be named for legal reasons, was in the flat with Ms John-Baptiste at the time of the fall and last year her mother told the BBC witnesses said they heard the couple arguing.
Mrs John-Baptiste asked for the CPS decision not to prosecute to be reviewed and was told initially there ought to be a prosecution, which a senior prosecutor revised.
At an earlier hearing in London, the family's barrister Karon Monaghan QC said there was "ample evidence" to support a prosecution, and there was a "threatening" text message on Ms John-Baptiste's phone from her boyfriend saying: "When I see u again I'll drop you."
Ms Monaghan said the prosecutor who made the final decision based it on an "unevidenced and gendered assumption" that Ms John-Baptiste may have slipped in a state of "high emotion".
But judges, who were asked to quash the decision, said it was "impossible" to conclude the decision was "wrong in law".
Lord Burnett said a jury would be invited to say "the only realistic explanation for Ms John-Baptiste's fall was that she was fleeing from a threat of violence", which he said all involved accepted "was one possible explanation".
"But the question for the decision-makers was whether it was more likely than not that a jury would reach that conclusion at the end of a criminal trial," he added.
A CPS spokesman said: "We understand how difficult this has been for the family. We considered all the information given to us by the police investigation.
"We can only prosecute an offence when there is sufficient evidence to do so.
"The original decision has now been tested by a Victim's Right to Review scheme (VRR) and now by a High Court hearing."